GISA AMBASSADOR ORGANISED SENSITIZATION PROGRAMME ON SELF MEDICATION FOR RADDAI METROPOLITAN SCHOOL STUDENTS IN JALINGO, TARABA STATE, MAY  16, 2019
I am Ayobami Ayomide Odusote, a serving Youth Corp member in Taraba state. I am a Pharmacologist and a GISA ambassador under the GISA Youth Drug Free Ambassador (GYDFA) initiative. GYDFAs are youths trained by GISA on evidence based substance abuse prevention among others. Based on my experience as a GISA Youth Drug Free Ambassador, I was invited to represent my Community Development Service (CDS) drug free and quality control group to speak on self medication to the junior students of Raddai Metropolitan School, Jalingo, Taraba state.
Over the years, people have engaged in self medication due to a number of reasons such as limited number of qualified professionals and access to quality health care services. This has been the case, especially for over the counter drugs (non-controlled drugs). Unfortunately, these medications are now producing more adverse effects due to inappropriate use.
Self medication can simply be defined as the selection and use of medicine by individuals to treat self recognized or self diagnosed conditions or symptoms. In our society today, everyone believes he/she can treat himself/herself with drugs they know nothing about but heard of its use from someone who had used it or they themselves have used it before with no knowledge of the adverse effects and interaction or basic pharmacology of the drug. More worrisome today is self medication for controlled drugs. This has caused major consequences including overdose related deaths particularly among the young ones.
The challenge of limited professionals and access to quality health care services notwithstanding, the risk of self medication cannot be overlooked. The risk includes incorrect self diagnosis, delay in seeking medical advice which can cause deterioration of the medical condition and sometimes death, severe adverse reaction which includes allergy and hypersensitivity, dangerous drug interaction, incorrect dosage which eventually leads to abuse, dependency and tolerance.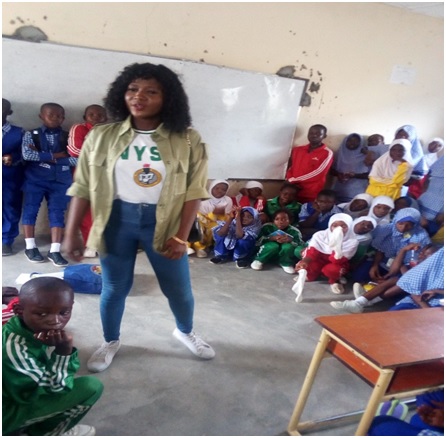 Studies have shown that children are initiated to the use of drugs including self medication before the age of 10 and most times, it is from peer groups or family or strangers. Studies have also shown that the judgmental part of the brain of these age groups is not fully developed as such cannot make logical sense of situations or issues. They are curious about new things which make them explore or take these drugs from whosoever it comes from especially when there are internal or external pressures.
With all of these in mind, I did not just explain what self medication is all about but I also taught the students coping skills on how to say a blunt `NO' to drugs from an untrained personnel and not to take drugs without the supervision of any of their parent or guardian and their schools health care providers.
It was a wonderful experience as it was another opportunity to contribute to humanity.
I want to use this opportunity to address all the youth reading this piece that you will all agree with me that this is not the time to sit on the fence with the worrisome trend of substance abuse among youths in Nigeria. We must all rise to address this issue frontally to safeguard the future of the younger generation. It is our time to address this issue of substance abuse.
Thank you and Thanks to GISA
Ayobami. A. Odusote.
We would love to be of help to you.
Please leave us a message.
We provide solutions to substance abuse through life skills training to prevent the initiation of substance use, help users to abstain and or live a quality life.
Office Address
No.17, Ayodele Fanoiki street, Adjacent Magodo Police Post, Magodo Estate Phase 1,Isheri, Lagos State, Nigeria.
Phone Numbers
+2347053486054
+2347039042687