Quarterly and Annual Reports
 GLOBAL INITIATIVE ON SUBSTANCE ABUSE (GISA)
17, AYODELE FANOIKI STREET, MAGODO ESTATE PHASE I, ISHERI, LAGOS STATE
QUARTERLY REPORT
JANUARY – MARCH, 2019
INTRODUCTION
The year 2019 started on a high note and with great expectations as preparations for the Universal Prevention Curriculum (UPC) for Substance Use Disorders trainings for the first quarter of the year (January – March, 2019) were being made. The training programmes lined up for this quarter were:
1. The National Training of Trainers on Universal Prevention Curriculum (UPC) for                  Substance Use Disorders, January 15 – 24, 2019
2.  Echo Training of Practitioners on the Universal Prevention Curriculum (UPC) for             Substance Use Disorders, March 11- 16, 2019 (Batch 1) and March 25 – 30, 2019 (Batch 2)
National Training of Trainers on the Universal Prevention Curriculum (UPC), Jan. 15 – 24, 2019
The first national training of trainers on the Universal Prevention Curriculum (UPC) for substance use disorders in Nigeria was held at the Lagos Airport Hotel Ikeja, Lagos state. This training, which lasted for nine days, started with an opening ceremony which was graced by the following dignitaries: Chairman/Chief Executive of the National Drug Law Enforcement Agency (NDLEA) who was represented by the Director Training and Manpower Development, Dr. Lawrence Opara; Director General of the National Agency for Food and Drugs Administration and Control (NAFDAC) who was represented by the Head, Drug Demand Reduction, Pharm. Clara Anyanwu; National Project Officer, Drug Demand Reduction of the United Nations Office on Drugs and Crime, Dr. Akanidomo Ibanga; Baale of Isheri Oke Town, Chief Bankole; Proprietor/CEO, Unique Group of Schools, Mrs. Esther Ayere-Alatise; Director, Social Welfare Department of Lagos State Ministry of Youths and Social Development, Mr. Olabode Taliat Ajao; Chairman, Board of Trustees of GISA, Mr. Ebenezer O. Olaseinde; and Chairman, Advisory Board of GISA, Sir. Victor C. Eka, among other personages.
Participants at the training were professors and doctors of medicine, psychology, and guidance counselling; pharmacists, clergy men, and principals of secondary schools. In attendance were also experts in Drug Demand Reduction from the Drug Law Enforcement and Regulatory Agencies that included NDLEA and NAFDAC, representatives of State Drug Control Committees and Ministries of Education and Youth Development. The faith-based organizations and the youths were not left out. Equally represented were specialists in drug demand reduction from Non-Governmental and Civil Society Organizations.
The landmark comprehensive evidence-based training of prevention of substance use in Nigeria was organized by GISA in collaboration with The Colombo Plan, Drug Advisory Programme (DAP) and the Bureau of International Narcotics and Law Enforcement Affairs (INL), United States.
The objective of the training was to provide participants with requisite Evidence-Based (EB) knowledge, skills and competencies on substance use prevention in order to help them train other practitioners across Nigeria.
Facilitators for the training were George Murimi, Susan Maua and Maria M. Ilugbuhi. They were all trainers from The Colombo Plan, Drug Advisory Programme (DAP). The training covered all the core implementer series and the first three school-based implementer series. The school-based implementer series is one of the seven tracks in the Universal Prevention Curriculum (UPC) for implementers.
The successful execution of its first National training on Prevention of Substance Use Disorders in Nigeria was a huge achievement in the month of January, 2019 for GISA.
The month of February started with preparations for the Universal Prevention Curriculum Echo Trainings for Practitioners scheduled for March, 2019. While these plans were going on, GISA was able to conduct a capacity building programme, where youths were assisted to develop effective measures towards sustainable substance abuse prevention. This programme was anchored by GISA Youth Drug Free Ambassadors (GYDFA), a platform where youths from different parts of the country have opportunities and rights to talk, relate and share ideas on how to improve their immediate community and environment and steer them away from drug abuse and its consequences. Furthermore, GISA team led by the Founder/Executive Director, Dr. Martin O. Agwogie, honoured a conference invitation by MTN Foundation, the host. Dr. Agwogie was a guest speaker in this conference where the sole focus was on Anti Substance Abuse Project (ASAP). The event was held in the month of February at the Civic Center, Victoria Island, Lagos.
Training of Practitioners on the Universal Prevention Curriculum (UPC) March 11 – 15 and 20 – 25, 2019
Having concluded preparations for the Echo Trainings in February, GISA conducted UPC trainings for substance use practitioners in two batches. The training workshop for the first group took place from March 11th through 16th in 2019 while the second batch held between the 25th and 30th of March, 2019. Both batches were trained at GISA facility at Plot 17, Ayodele Fanoiki Street, Magodo Estate Phase I, Isheri, Ikeja, Lagos state. There were 22 and 18 participants in the first and second groups respectively.
The trainings were organized by GISA in collaboration with the Colombo Plan Drug Advisory Programme (DAP). In these workshops, the Founder and Executive Director of GISA, Dr. Martin Agwogie, led the team of UPC Master and National trainers that comprised of Mrs. Maria Ilugbuhi, Professor Bola Ola, Dr. Oluseyi Odewale, Dr. Grace Ijarogbe, Mrs. Chinyere Okonkwo and Mr. Remilekun Taiwo. Each of the trainings covered the CORE of the Universal Prevention Curriculum (UPC), course. As much as the trainings were very educative, they were also fun-filled as the facilitators made every presentation including group works/exercises lively and interactive for participants.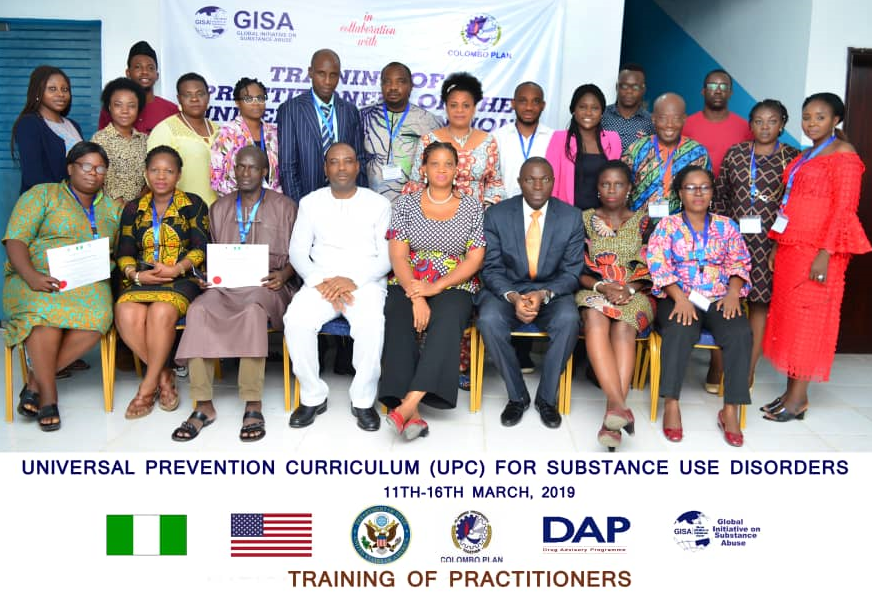 Each of the two trainings ended with words of encouragement to the participants to go back to their various operational domains and tackle the problems of substance abuse making good use of the newly acquired knowledge and skills in line with prevention principles and ethics. Certificates of participation with credit hours were presented to the participants.
In each of the trainings, there were pre-tests and post-tests. In addition, the training materials and programme contents were evaluated (see Table I below). Five of the trainers who facilitated in the two trainings were also independently assessed by the participants with respect to knowledge of the subject matter, delivery skills/supervision, time management, participant's engagement and general demeanor (see Figure 1 below).
A. Evaluation of trainers
Figure 1: Facilitators' Proficiency level
SCALE: Developing = 0 – 25%; Adequate= 25 – 50%; Approaching Proficiency= 50 – 75%; Proficient= 75 – 100%.
Result from figure 1 shows that all the facilitators had mean scores of between 75.47 and 93.75. That means the facilitators are proficient in the UPC trainings.
Table 1: Training programme content
Other variables measured during the training will be collated with subsequent trainings and published accordingly.
KNOWLEDGE, SKILLS AND EXPERIENCE OF PARTICIPANTS AFTER THE TRAINING
The feedback on the knowledge, skills and experience gathered by participants at the end of the training includes:
 The importance of Evidence Based Intervention (EBI) for substance use disorders and not gut-feelings;
'Prevention skills' is the missing link in drug demand reduction;
 The significance of monitoring and evaluation of interventions;
Importance of planning, implementation and evaluation;
School-based interventions;
How to identify needs and resources;
The need for resource assessment to kick start a prevention process;
Professional code of ethics and the need for professionalism in the field;
Better understanding and coming to terms with happenings around community;
Better decision-making process, theory-informed implementation cycle, developmental stages of children and how to introduce substance use prevention in school settings;
How to fit an evidence-based intervention into an existing programme;
 The credibility in fidelity with respect to the implementation of evidence-based programmes;
The need for data gathering/research before interventions are provided;
Parenting and teaching of pro-social skills in place of just "say no approach;
Theories to use for different cases;
Knowledge about different coping skills;
How to identify areas of strength and sustainability;
Methods of prevention intervention;
Skills to be developed when engaging in evidence-based prevention;
The need for early intervention;
Not focusing on the negative aspect of substance use but on improving decision making and life-skills;
How to identify target population, community assessment and those who constitute "my dream team".
THINGS TO CHANGE BASED ON TRAINING EXPERIENCE
Trainees listed out 12 things they would like to change based on the experience gathered during the training, and these were: (1) changing the current perception about drug abuse, (2) changing the orientation on how to provide intervention, (3) changing the perception about persons who use drugs, (4) improving the level of knowledge about family skills, (5) using persuasive speech to get the buy-ins of their bosses/supervisors about evidence-based prevention, (6) changing the ways prevention activities have been conducted in the past including style or language of sensitization, (7) using age appropriate language and methods to teach necessary skills and not just saying "no to drugs" or using scare tactics, (8) following the implementation through the cycle, not doing harm but good, (9) making sure there are components of monitoring and evaluation, (10) adhering strongly to fidelity and ethical standards, (11) improving interpersonal skills among youths, (11) changing the mind-set on getting substance users arrested and providing help/referral for treatment and counselling services instead, and (12) avoiding the use of persons in recovery from substance use during prevention intervention programmes.
DIFFICULTIES FACING CHANGE AND USE OF EXPERIENCE
The participants enumerated some difficulties that they might likely face in trying to implement the change based on the experience gathered during the training. These included availability of resources, cooperation from superior/supervisors, culture of target audience, getting others who do not have the knowledge of evidence-based prevention intervention to come on board, challenges with some school policies, concept and perception of intervention implementation, limited resources for continuous training, lack of willingness of colleagues to change and embraces new ideas, existing systems, bureaucracy and protocols for intervention, financial resources for the interventions, and getting the approval of the community members.
OVERALL TRAINING EXPERIENCE
Overall review of participants' experiences shows that most of the participants indicated that:
 The training was interactive, enlightening, exciting, impactful, great, wonderful, fun, impressive and worth the while;
 Participants were able to have better understanding of new useful concepts;
 Participants had new knowledge on Evidence Based Interventions (EBI) and how to implement them after training was acquired;
 The knowledge on substance prevention was worth the time;
 Exposure to prevention and implementation of substance use prevention programmes was educating and refreshing.
COMMENTS AND SUGGESTION
Participants were of the opinion that facilitators gave room for trainee's participation; the method of delivery was adequate; trainers were very competent; training was well organized; facilitators were able to differentiate treatment from prevention, the training venue and curriculum were excellent and relevant, strict and effective time management, their learning about child development and the ability to change the way they approach issues. Having said these, they wanted more time for the presentations so that new participants, those who are new in the field of substance abuse, can assimilate better; and more time allocated for participants-facilitators interactions for more practical learning experiences.
In addition, the combination of facilitators was very good as they complemented each other and raised the standard. They commended the organizers of the training and hoped that they would continue to educate all stakeholders in the society and in other parts of Nigeria on substance use and prevention. Overall, they learnt a lot and looked forward to more trainings organized by GISA collaboration with the Colombo Plan Drug Advisory Programme (DAP).
OTHER ACTIVITIES
Beyond trainings, GISA engaged in other activities within the first quarter. Three (3) clients were admitted for treatment interventions for substance use disorders. Also, we provided consultancy services in the area of substance use prevention, treatment and policies. The Founder/Executive Director granted press interviews within the period. Some of the interviews were aired on the National Television Authority (NTA), Lagos Television (LTV) among others. The print media were not left out as interviews were published in Guardian Newspaper, The New Telegraph, Thisday, and Daily Times among others.
Within the period, GISA also recognised notable individuals with different categories of awards such as, GISA Drug Free Ambassadors, award of Excellence for a Drug Free Society and Mother of Excellence for a Drug Free Society through Education.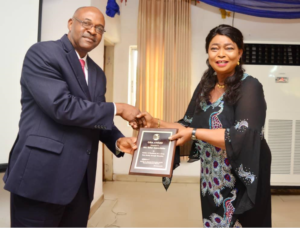 CONCLUSION
The first quarter of the year ended on a positive note and with a lot of promises. There were inquiries from many participants and interest in further UPC trainings. It is reassuring to know that professionals in the field of drug demand reduction in Nigeria have waited long for the opportunity to receive comprehensive training on evidence-based interventions for substance use disorders. We hope to expand our scope of training in the second quarter of the year so as to meet the demand for capacity building in evidence-based substance abuse prevention.
We would love to be of help to you.
Please leave us a message.
We provide solutions to substance abuse through life skills training to prevent the initiation of substance use, help users to abstain and or live a quality life.
Office Address
No.17, Ayodele Fanoiki street, Adjacent Magodo Police Post, Magodo Estate Phase 1,Isheri, Lagos State, Nigeria.
Phone Numbers
+2347053486054
+2347039042687